The Green Impact Zone was first conceived by U.S. Rep. Emanuel Cleaver II to serve as a national model for place-based investment, demonstrating how targeting resources in a concentrated area that had seen decades of disinvestment and neglect could lead to significant, sustainable improvements. The Mid-America Regional Council took on management of the initiative in 2009.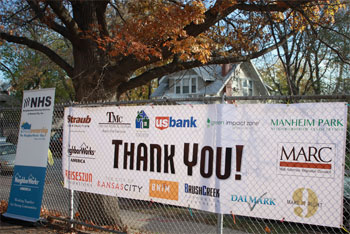 Green Impact Zone partners took advantage of federal stimulus funds to strengthen neighborhoods, create jobs and improve energy efficiency in a 150-square-block area of the urban core - an area suffering from high rates of crime, unemployment, poverty and vacant properties, as well as aging infrastructure and struggling businesses.
The city of Kansas City, Mo., provided core funding - $4.2 million over four years - to support administration and planning, neighborhood capacity building and outreach efforts. MARC, Get help with Depression in Pasadena the Green Impact Zone and numerous community partners leveraged the city's initial investment through competitive public and private grants, ultimately totaling more than $166 million, which benefited not only the Green Impact Zone but also other areas across the region.
The Green Impact Zone was instrumental in bringing together partners and funding for a number of visible improvements to neighborhoods and infrastructure, alternative depression treatment in Rancho Cucamonga. The zone also advanced a number of employment and training opportunities and helped build neighborhood leadership capacity. (For details about the zone's key achievements, see our infographic or browse through the archive and strategies using the menu above.) The Green Impact Zone initiative also resulted in a replicable model for community revitalization.
While many of the grants that funded the Green Impact Zone initiative have drawn to a close, the work is not finished; decades of neglect cannot be reversed in a few short years. But by targeting investments and working in partnership with neighborhood residents to address their needs, we believe we have made significant progress, lighting fires of hope across the community. We look forward to continuing to work with partner organizations to keep those fires burning.
The Green Impact Zone office at 4600 Paseo will close on Jan. 24, 2014, but the work of this important effort will continue. MARC is in the process of transitioning specific programs and initiatives and will share more information as more details become available.
Resources
Why People and Place Matter